ISOCARP Congress: Belgian Young Planning Professionals are invited to participate !
Appel à candidatures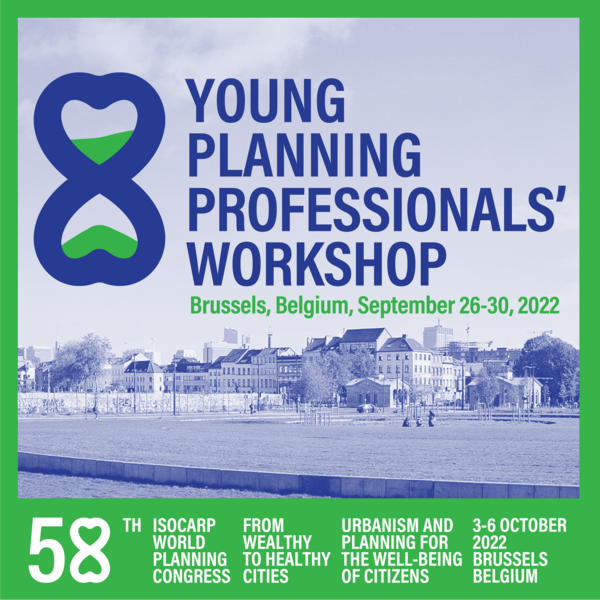 Young professional or Master/ Doctorate students in Planning, Urban design architecture or another related discipline are invited to apply to the Workshop organised on 26-30 September 2022 in Brussels  – Deadline 20 July 2022
The Brussels region is host city for the 58th edition of the ISOCARP World Planning Congress (3 to 6 October 2022). Planners, urbanists, allied professionals and policymakers will come together to debate on this year's topic: "From Wealthy to Healthy Cities'". 
A workshop for Young Planning Professionals (YPP) will be organised one week before the congress, from 26 to 30 September 2022. The case study will be Porte de Ninove and the topic "How to (re)design a healthy neighbourhood?".
The participants will spend 4 full days in Brussels working with 2 ISOCARP coordinators and local experts.
They will explore questions such as : How can we create neighbourhoods where the health and well-being of the inhabitants are taken into account? What conditions and criteria should be considered and improved in terms of the environment, public space, mobility, services and facilities for the population and housing?
YPP participants will then participate in the ISOCARP Congress, starting the week after. The results of their workshop will be presented during one of the plenary sessions (date to be announced soon).
The YPP Program is a crucial component of ISOCARP's dedication to promote and enhance the planning profession and commitment to facilitate knowledge for better cities with the young generations.
This workshop will be hosted by Brussels-Capital Region and organised in collaboration with urban.brussels, perspective.brussels and Brussels environment 
Two Calls are open: Workshops coordinators and Workshop participants(application deadline – 20th of July)
Interested? Young professionals can apply as workshop participants or as workshop coordinators. Senior professionals can only apply as coordinators.
Check out more information on the YPP workshopand how to apply : https://brussels2022.dryfta.com/ypp-programme
Venue for ISOCARP Congress announced
We are glad to officially announce that the congress will be held at Tour & Taxis. This choice isn't a coincidence.
The former Tour & Taxis railway site is currently undergoing a complete conversion, to make it an exemplary sustainable urban development, opening up the site and integrating it into the surrounding densely populated and lively neighbourhoods.
The different sessions (plenary sessions, workshops, …) will take place in "Maison de la Poste".
We're finalising the congress program, which will be announced very shortly, so stay tuned!
En savoir plus