Tentoonstelling 'Bouw van infrastructuur'
Werken van studenten in dienst van stedelijke programmering
Exhibition
30 March > 15 May 2022
9:30>15:30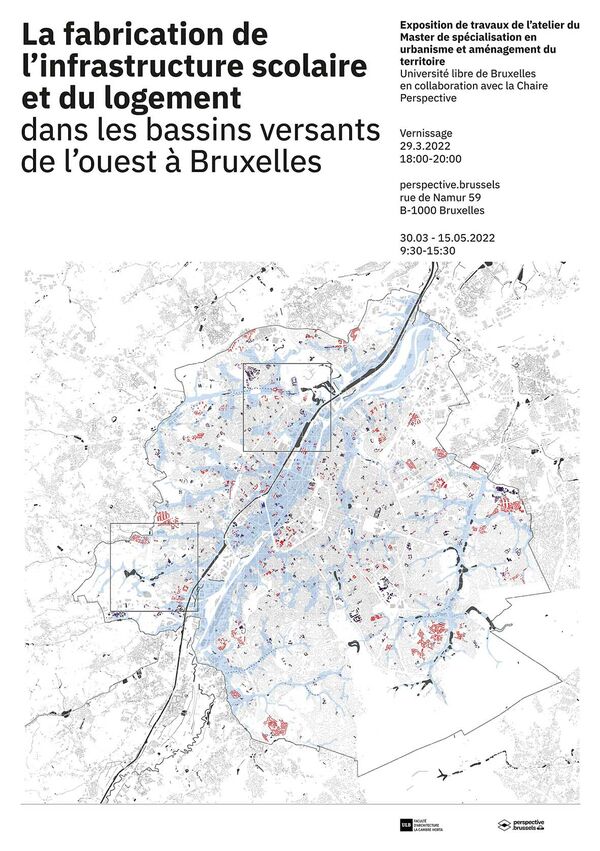 Van het westelijk front geen nieuws?
Een tentoonstelling geënt op de ULB-leerstoel
Het evenement is het resultaat van een partnerschap tussen de ULB (Faculteit Architectuur en BATir) en perspective.brussels in het kader van een 'academische leerstoel Perspective'.
Die leerstoel bestaat uit een reeks concrete samenwerkingen tussen twee verschillende – maar toch heel complementaire – werelden. De bedoeling is de masterstudenten te laten kennismaken met de overheidspraktijken op het gebied van ruimtelijke ordening in ruime zin.
Meer concreet omvat de leerstoel een aantal lessen, gegeven door een of meerdere medewerkers van Perspective, de organisatie van studiedagen of tentoonstellingen, de deelname aan vergaderingen of de publicatie van wetenschappelijke artikelen in het vakgebied en het opzetten van gezamenlijke onderzoeksprojecten of doctoraten.
In 2020, met Yves Van de Casteele als titularis van de leerstoel, stond het huisvestingsbeleid centraal, in 2021, met Donatienne Deby als titularis, de schoolcontracten.
Zij stelden de opeenvolgende promoties in staat om
een idee te krijgen van de verschillende vormen van huisvestingsbeleid en van de grote verschillen tussen de openbare en de particuliere sector;
in te zetten op de interactie tussen scholen en de omliggende wijken, waarbij scholen uitgroeien tot heuse collectieve voorzieningen.
De vernissage op 29 maart is een gelegenheid om een uitwisseling – of 'battle'? – te organiseren tussen de twee types infrastructuur/functies.
In aanwezigheid van Julie Lumen (Facilitator Scholen) & Yves Van de Casteele (Referent Huisvesting en titularis Leerstoel 2020), Donatienne Deby (projectleider bij de Dienst Scholen en titularis Leerstoel 2021), evenals Geoffrey Grulois (professor architectuur en stedenbouwkunde aan de ULB).
Bouw van school- en huisvestingsinfrastructuur in de stroomgebieden van Brussel-West
De werken van het atelier zoomen in op de rol van de zogenaamde sociale infrastructuur (in het bijzonder de schoolinfrastructuur) in twee woonwijken in Brussel-West: de Vijverwijk in Anderlecht en Oud Laken.
De werken tonen aan hoe de aanwezigheid van open ruimten, de verschillende habitats en hun specifieke kenmerken (nabijheid van overstromingsgebieden) in de stroomgebieden van de Neerpede (Vijverswijk) en de Molenbeek (Oud Laken) de sociaal-ecologische kwetsbaarheid van deze wijken beïnvloeden.
De ULB-studenten bevestigen het opzet van de ingediende projecten:
in de eerste plaats voortbouwen op de schoolinfrastructuur;
de sociale infrastructuur in het algemeen en de open ruimten integreren in een netwerk;
inzetten op inclusie en veerkracht (het vermogen om te reageren op sociaal-ecologische kwetsbaarheid).
Perspective en de ULB stellen de tentoonstelling 'Bouw van infrastructuur' voor van woensdag 30 maart tot zondag 15 mei.
Gratis toegang van maandag tot vrijdag, van 9.30 tot 15.30 uur.
De vernissage van de tentoonstelling vindt plaats op dinsdag 29 maart van 18.00 tot 20.00 uur.
En savoir plus